OUR STORY
'Hopped up on Homegrown' is more than Stonehome Brewing Co.'s slogan; it's the blueprint of the North Dakota community-immersed pub that opened its doors in 2016 and built out the craft brewery the following spring of 2017.
Norwegian for "a homestead or farm made of stone," the brewery's name "Stonehome" also translates to the Old Norse surname, Stenehjem — one of the two local Midwestern families who brought the idea to life.
Stonehome was dreamed up and designed to show people what craft beer can be, not what craft beer is. Stonehome Brewing Co. is the every person's microbrewery. Our focus is creating approachable, clean yet innovative and above all, high-quality craft beer for all.
OUR PEOPLE
Both of Watford City, North Dakota, the Pelton family and their business partners, the Stenehjem's, teamed up to tap into an industry they've always been passionate about – real authentic craft beer.
Steve and Gretchen Stenehjem proudly raised their children, Peter, Erik, Kristen and Kira in Watford City. And over the last decade, Angie and Aaron Pelton have been raising their children, Aidan and Avery, here in W.C. — which also happens to be both Aaron and Steve's humble, yet hearty hometown.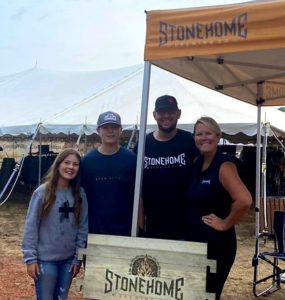 The Pelton's assembled the right crew including Stonehome's Award-winning Brewmaster, Rick Diaz.
Rick hails from Orange County, California where he learned how to brew in his garage over 12 years ago. Rick has also perfected several traditional German recipes such as Helles Lagers and Hefeweizens with much acclaim that earned him a following at his previous Brewmaster position at WYOld West Brewing Company in Powell, Wyoming. This allowed him to exit his career in Telecommunications and Information Technology and earn a living following his passion for creating well-balanced and unique flavored beers. Rick is also a proud US Army veteran having served overseas and beyond. 

OUR CULT

URE
We are continually working to nurture our community as a destination location and continue shaping ourselves as a leading craft beer producer in North Dakota — while keeping everyone "hopped up on homegrown."
Stonehome Brewing Co. is a place you can hang your hat, be yourself, kick- back, and indulge in small-batch craft beers, whether that's physically in our Watford City brewpub, or a state-of-mind in the comfort of your own home, via growler or 4-pack cans.
Bring the family, bring the buddies, bring the game, bring the kiddos, bring the co-workers. Stonehome Brewing Co. is the every person's microbrewery.